Waheguru Ji Ka Khalsa, Waheguru Ji Ki Fateh!
My name is Hargun Kaur and I was born and raised in the blessed city of Amritsar. As an only child, I am very fortunate that my parents have always supported me in my academic aspirations and other passions. My greatest love is singing and classical music. I have been singing from a very young age… in fact, my parents say that I started singing when I was just three!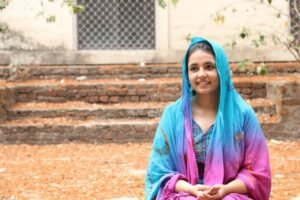 My singing is inspired by many different styles, sounds and genres – from contemporary and traditional fusions to ghazals, bhajans and gurbani keertan. I enjoy experimenting with my voice, pitch and tempo, accompanied by harmonium, which I have been playing since I was a young girl. With the kind grace of God, I have been blessed with many opportunities to showcase my voice to the world, including reaching the final stages of national competitions such as 'Voice of Punjab' and 'India's got Talent'. These were incredible experiences which made my love for singing and music stronger than ever.
"I started singing when I was just three!"
Right now, I feel ready to embark upon the next exciting adventure of my career! I am so excited (and slightly overwhelmed!) to announce that – with the sweet blessings of Guru Ji – I will be singing a track for the upcoming 3D animation, 'Motherhood: The Journey Of Mata Sahib Kaur', set to be released worldwide in April 2019. I feel so blessed and humbled to be given this amazing opportunity. Motherhood is a unique initiative which will enlighten us all about our valiant Mother of Khalsa – Dhan Dhan Mata Sahib Kaur Ji – who is the embodiment of love, sacrifice and leadership.
I would like to congratulate the whole team at Nihal Nihal Nihal Productions for their passionate efforts and commitment to ensure that this non-profit animation reaches global audiences and inspires future generations. Again, I wish to express my gratitude to the whole team for welcoming me on board. I am very excited about being part of such a special project. I would also like to say a huge thank-you to our eternal mother, 'Dhan Mata Sahib Kaur Ji', for this wonderful opportunity – I hope and pray that I can make you proud!
Stay tuned and watch this space for regular updates.
Waheguru Ji Ka Khalsa, Waheguru Ji Ki Fateh!